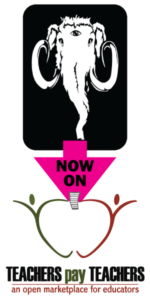 Yes, it's true. Right here.
Why? Impact, respect, and revenue. Given that lots of people use Teachers Pay Teachers, having our games and lessons on the site means that they'll get more eyes and more use. That use part is important, as our central goal is always effective positive impact. With a little luck, eyes and use will translate into respect, respect will translate into revenue, and we'll take another step forward towards financial sustainability (sustainability also being an important ingredient for effective positive impact).
What's up? Right now, just Fire Tag, which is up for free. Teachers Pay Teachers requires every seller to post at least one free item, and that's fine by us, as we'd always planned to leave Fire Tag in the public domain. In the next few weeks, we'll be finishing a major revision of the Systems and Ecosystems lesson plans. When that's done, we'll post it to TpT as well, but as a pay-what-you-want product, in keeping with our commitment to equity.