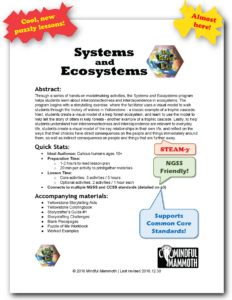 This month's major task was to create a revised and expanded version of Systems and Ecosystems, a play-based program about interdependence and interconnectedness in ecosystems and everday life. I'm happy to announce that this revised program is almost here!
Just this hour, I've finished the major part of the writing. The end result is a lesson plan of 6000+ words, and a quality set of companion workbooks and worksheets.
This evening, I'll share the updated doc with a small circle of friends and Patrons for a last round of feedback and spellchecking. Later next week, I'll do a final round of minor fixes, and then publish the final documents to the educators section of the Puzzle of Life website and to our storefront on Teachers Pay Teachers.